Let's keep summer festive and fun! Time for the best pool party ideas to make a big splash this summer.
Best Pool Party Ideas To Make A Big Splash
Food for Party
Summer doesn't always mean you have to serve the usual burgers and hot dogs. Kick it up a notch with ribs, delicious dips and even try cold pasta salad in a jar or if you plan a sit down meal pair fresh summer ingredients with mushroom ravioli.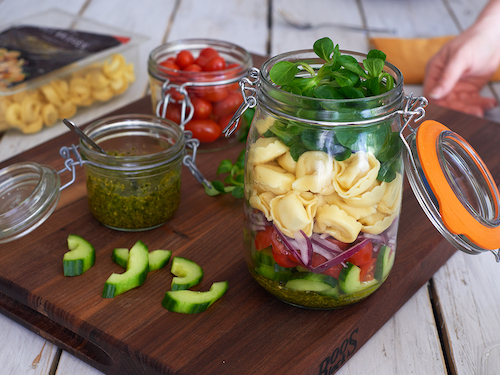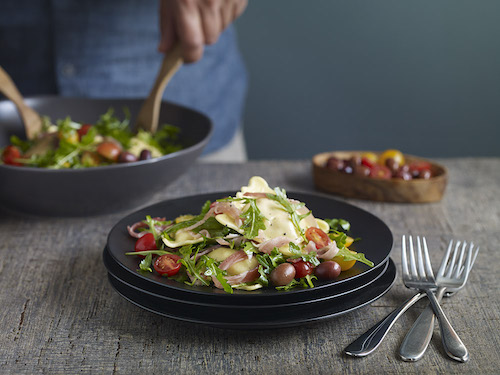 You always need a delicious dip with crudité and chips. I'm partial to pesto during the summer on pastas and in dips.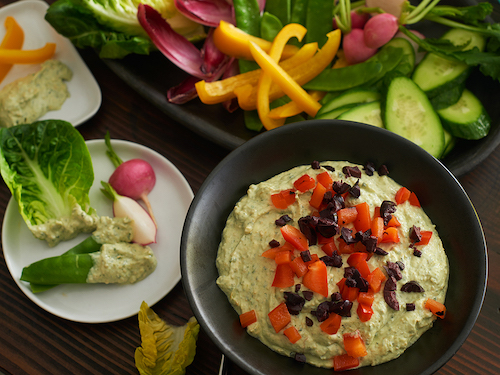 Lemon Pesto Goat Cheese Dip
Ingredients:
7 oz tub Three Bridges Basil Pesto Sauce
12 oz Goat Cheese, room temperature
2/3 cup Sour Cream
1 each Lemon juice and zest
1 tsp Garlic sliced
2 oz Kalamata olives, pitted and diced
2 oz roasted red pepper, diced
Directions:
In a food processor place the goat cheese, sour cream, pesto sauce, lemon juice and zest, garlic in processor until smooth. Season with salt and pepper. Transfer to serving bowl. Cover and refrigerate until chilled.
To serve; Top dip with remaining pesto and sprinkle with the black olives and red pepper. Serve alongside crudité. Enjoy!
Ribs! Ribs! Ribs!
Skip the burgers and hot dogs and go big with ribs!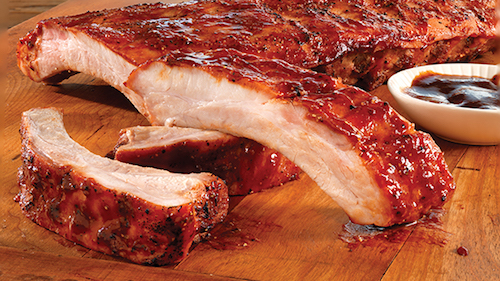 It not always the guys that grill like a pro. I picked up some Smithfield Extra Tender Back Ribs as my go-to bbq pick because they're fresh high-quality cuts of meat and extra juicy. Prep and roast for about 2 hours prior in the oven and then it's just 15 minutes on the grill and they're ready to devour. Here are rub and marinade recipes along with ideas for side dishes too. It's really super simple to prepare. You can find Smithfield products at your local Walmart and grocery stores nationwide.
Party Decor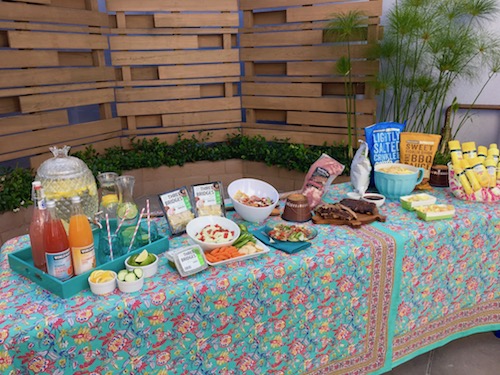 Every party looks better when you finesse it with some color from the tablecloth to the rays and serveware. I always find the best table setting pieces and serveware from World Market plus they've also got snacks and wine so I take can take care of a lot of party shopping in one place.
Games to Entertain Kids and Adults
Amazon has come up with their ultimate summer toy list and it's a doozy! The list makes it easy to shop and convenient when you're searching for a certain age range to games indoors or outdoors or for playing in the pool. The summer toys and games are perfect for kids or kids at heart.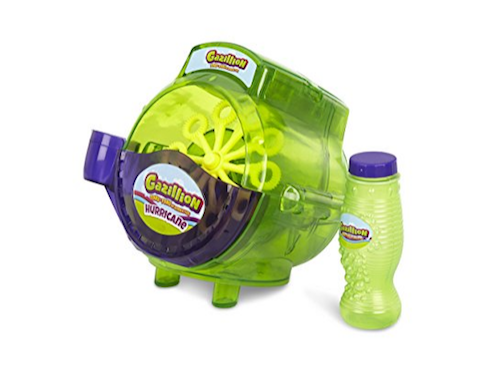 Gazillion Bubble Hurricane Machine, $12
This machine makes 500 bubbles per minute! That's a lot of bubbles for kids to chase and pop. The Amazon Summer Toy List has the most popular toys to keep the kids (and kids at heart) entertained outside all summer long. Amazon's vast selection of products allows you to get your favorite summer toys delivered right to your doorstep so you have more time to have fun.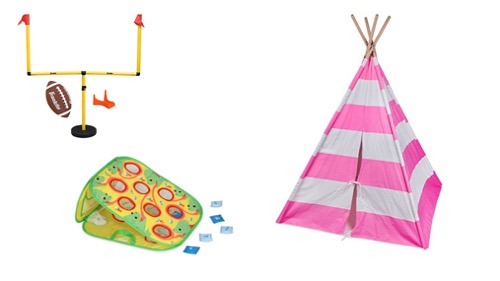 Franklin Go Pro Youth Football Goal Post Set, $36
Wildkin Canvas Teepee Playhouse, $65
Melissa & Dog Bean Bag Toss Game, $20
SPF to Protect Your Party People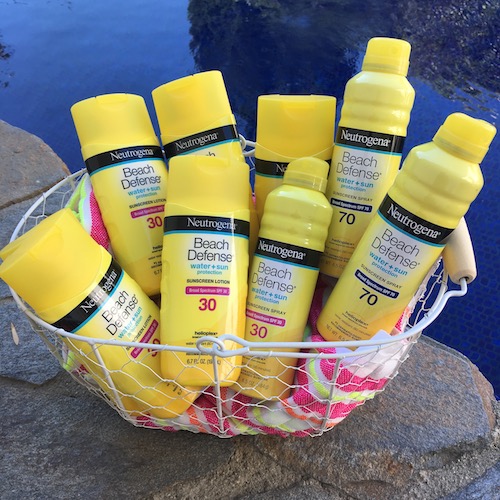 Despite all we know about sun protection, skin cancer continues to be a health epidemic in the U.S. – on average, more than 350 Americans are diagnosed with skin cancer every hour – even though skin cancer is one of the most preventable cancers. So, in order to play safe I always have a bucket of sunscreen at every party and encourage my guests to apply and re-apply throughout the day. One of my favorite brands is Neutrogena® Beach Defense® Sunscreen. Beach Defense® in both spray and lotion provides superior skin protection from harsh summer elements, clinically proven to help defend the signs of sun damage and it absorbs quickly. Formulated with HELIOPLEX® Technology, the sunscreens form a broad-spectrum UVA and UVB protective barrier that is clinically proven to help skin defend against harsh summer elements.
Pool Floats

This party ballon animal remind you of childhood birthday parties? Well, this one is sooo much better and bigger. This red party balloon pool float from BigMouthinc.com can be shopped for at Target.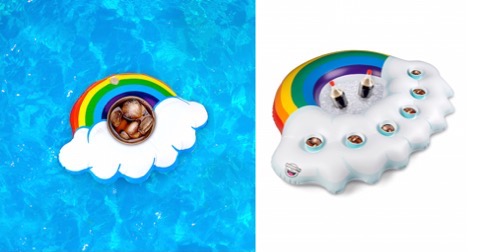 When it comes to the best pool party ideas these drinks floats are at the top of the list. Why get out of the pool when your drink can float with you? Plus, a theme like rainbow and cloud pool drink floats can add a little bliss to your day.
Round Beach Towels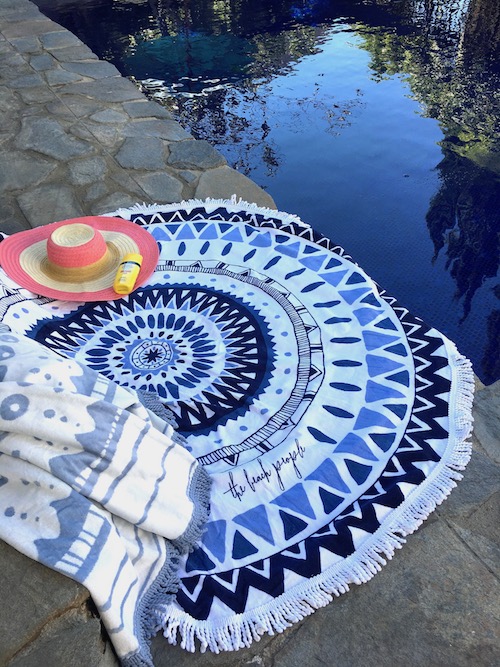 Whether it's lounging by the pool, headed to the beach or just a picnic in the park the newest trend in towels for water, sand and grass is all about being round. These stylish round beach towels by The Beach People are from Neiman Marcus and I got them in time for the party by using my Shoprunner.com membership which gives me free two business day shipping from over 100 retailers and brands. Sweet!
LA Style Expert Alison Deyette is a TV + digital host and Los Angeles stylist who was recently named one of the top stylists in Los Angeles by Variety, WWD, Angeleno, and Modern Luxury magazines. Known as "The Fixer," she can help you solve your fashion conundrums, take the reins of a home decorating transformation, or hand you the hottest trend without breaking a sweat. She also loves a good party – hence the ideas for a fun outdoor pool party.