You do it. I do it. We walk into our closets and sometimes struggle to find something to wear as we stare at a closet full of clothes. Time to re-think and re-fresh. A closet refresh can inspire you to take more chances and experiment with your wardrobe and give you a new perspective on personal style.
While it can seem daunting, the best way to get started is to set aside time on your calendar. A few hours to declutter and organize can reap big rewards as in "new" outfits from our own closet. Remember – fashion should be fun.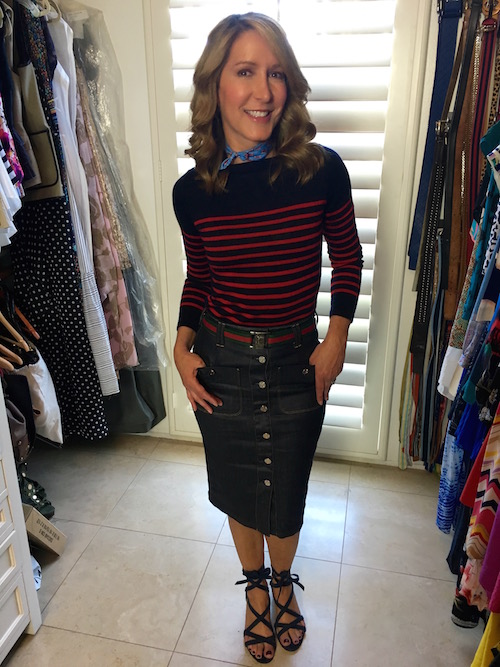 Closet Refresh
Organize The Chaos of Your Closet
Hang like with like – this will bring you to terms with what you own – you may suddenly realize you have 5 black blazers yet only wear one. Put blouses together, long dresses together, set similar colors next to each other. By organizing you'll be able to find what you're looking for easier and you'll find more options within your own closet.
Hang as Much as You Can
Keep drawer space for t-shirts, jeans and workout wear. For sweaters – find space on shelves and get some open storage and stack like with like again. Add some cedar planks or blocks to keep them fresh and moth-free. The more you can see of your wardrobe the better the chances you'll actually wear the clothes you own. Plus, you'll get a chance to see what's missing from your closet and what new pieces will give your wardrobe a stylish boost.
When you store away most items in cabinets and drawers you end up forgetting what you own.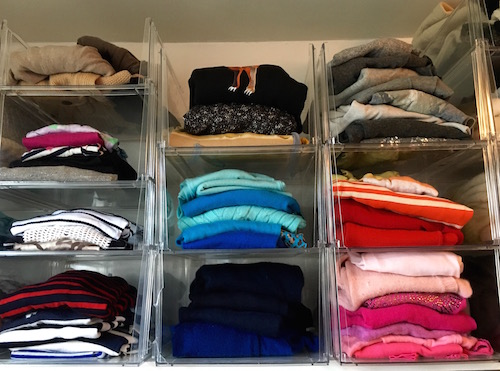 Don't Get Rid of Everything
I love a good closet purge; I know as I'm cleaning and organizing I find items I haven't worn in a year or longer. If it fits and it's in good condition I "re-introduce it" to wardrobe. Here's the big tip, I find three new ways to wear it. It pushes me to shop and style from my own closet in inventive ways. It gives me a chance when I wear it out the door to re-asses if I still like it. Let's face it, you likely don't love everything in your wardrobe and that's ok, you don't have to love everything. I know some experts will say it that everything should bring you joy, but some pieces are there to work for you and help showboat other pieces. Classic pieces aren't necessarily "sexy" but they get you from point A to point B.
Be Picky
It doesn't have to be about what gives you ultimate joy, but going forward be picky with what you buy and what you wear and it will be easier to clean out your closet. Whether you're shopping for a trendy top or a classic piece take just as much time determining that the piece fit and flatter your figure as you do with liking the style, color or fabric.
Declutter Your Drawers.
I don't think a woman needs 25 t-shirts unless tees are all you wear. The t-shirts that matter most are the ones that work with just about everything – white, black, navy and grey, some stripes. That Super Bowl (I assume I can't say that on TV so perhaps "that playoff championship team") t-shirt from last year, well, the game's over so it's now useful as a cleaning rag.
Keep a Few Fun, Statement Making Pieces
Mix in these fun items with the classics to give them oomph. This is when you define, create and show off your personal style.
Time to Shop
Shop for new pieces that instantly inspire you to have fun with your wardrobe, make you feel good and boost your confidence. And as I said before, these new pieces should be able to be worn multiple ways. Take some chances and mix up unexpected pieces together like floral with stripes or gingham or bold color with other bright pieces, especially for spring and summer when everyone's mood seems to brighten.
Take photos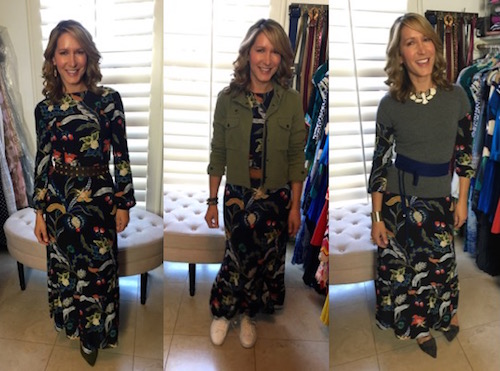 Take photos of outfits and multiple ways to wear new pieces on your phone. On a hanger, on a bed or even on yourself. It doesn't have to fancy. Create an album to easily reference the photos on your phone or computer anytime you find yourself wearing the same outfits too often.
Finish Line
Once you clear the clutter, down size, organize, and donate – you'll feel a little lighter, accomplished and suddenly your closet looks refreshed and renewed and you'll have outfits that combine old and new items that you hadn't thought of before. Now it's time to show off your new looks.
Style Expert Alison Deyette is a TV + digital host and Los Angeles stylist who was recently named one of the top stylists in Los Angeles by Variety, WWD, Angeleno and Modern Luxury magazines. Alison works with clients in Southern California, New York, and other cities across the country. Alison has helped kick-start the new look of hundreds of women and men, and worked with people of all sizes and shapes — from petite to tall, slender to plus-size. As a stylist and fashion director, Alison has styled and directed photo shoots all over the world with models, celebrities and real women for a variety of magazines, including: Mode, Good Housekeeping, People Style Watch, Woman's Day, Ocean Drive, Real Beauty and Fitness. With Alison's guidance, you can discover or enhance YOUR individual look, fit your figure and access the sophisticated, sexy or simply knockout new you!
Alison appears regularly on Good Morning America, TODAY, Access Hollywood, The Real, The View, Steve Harvey and is the Style Expert for KTLA's Morning News. Alison is currently host of the AOL series, The Savings Experiment, one of the lead style hosts on Joyus.com and the style expert for HSN. She is a contributing fashion editor for Real Simple, Life & Style, In Touch and Closer Weekly. She was the host of Pocket the Difference, a co-host of TLC's 10 Years Younger and TBS' Movie and a Makeover and the weekly Style Contributor on Hallmark Channel's Marie. In addition, she has hosted several web series including: AOL's In the Know, HerSay with Soleil Moon Frye, Playtex's Bra Makeover series, A Secret Worth Sharing. These web series collectively have more than 100 million views.