We love to eat! We also like to impress our party guests! We show how to cook easy, delicious ribs in the oven that fall-off-the-bone without firing up the grill. My bestie and Super Easy co-host, Jesse Brune-Horan and I decided to skip the burgers and hot dogs for our next party and kick it up a notch with ribs. You don't need a grill to enjoy ribs and for those who own a grill it's a chance to step away from the smoke. "Super Easy with Jesse & Alison" has a simple philosophy: "Everyone deserves to live a good life." And together, we're going to show you just how "easy" it can be to do just that while having some fun as well.
How To Cook Easy, Delicious Ribs In The Oven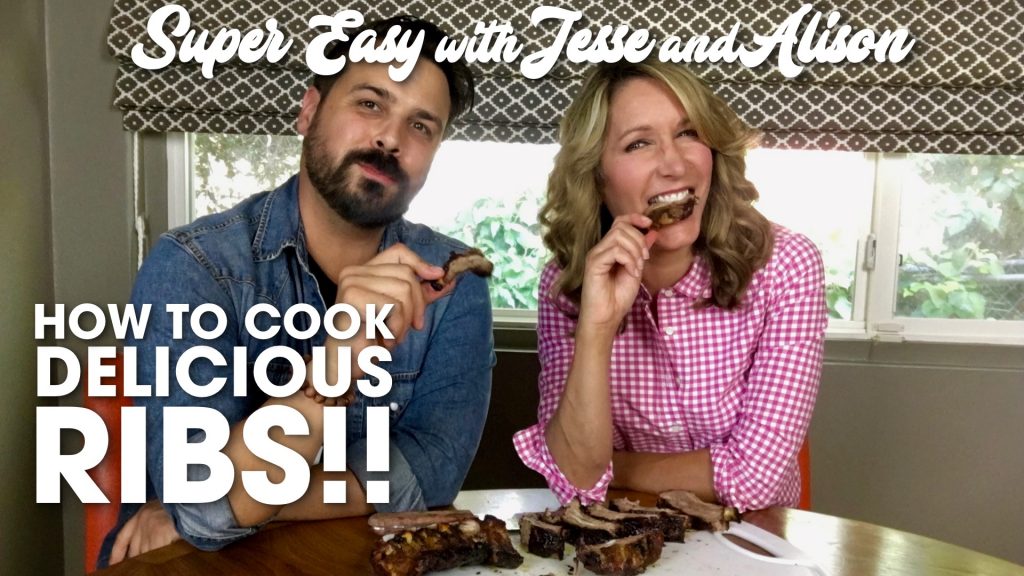 Tender And Delicious Ribs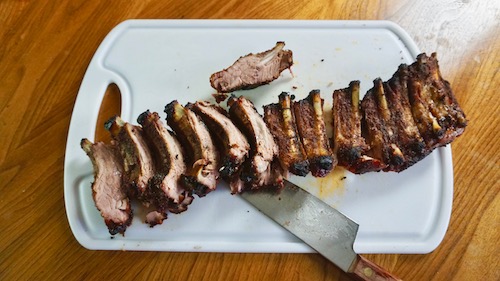 How To Cook Easy, Delicious Ribs In The Oven
How'd we make SUPER EASY DELICIOUS RIBS?
Recipe for yummy ribs–
– Preheat oven to 350 degrees
– Take the rack of ribs and remove the membrane from the back.
– Score the meat with angled small cuts
– Rub butter into the meat
– Rub the meat with a dry rub of your own selection. Rub the butter and spices all over the meat and into the the small cuts.
– Place ribs into a pan lined with foil.
– Put ribs into the oven and set timer for 90 minutes. Check to see if meat is cooked after one and a half hours. If not they should be done by by the two hour mark. Take out of the oven and slather with some barbeque sauce for the final touch.
If you wish to put on the grill then leave the last 15 minutes of cooking for the grill.
-Slice and serve. DELICIOUS!!
We picked up our rack of Smithfield ribs from Walmart. We used store bought dry rub and BBQ sauce, but if you're looking for a homemade marinade or barbeque sauce you can check out some recipes at Smithfield and get busy.
YUM!
Lifestyle Experts Jesse Brune-Horan and Alison Deyette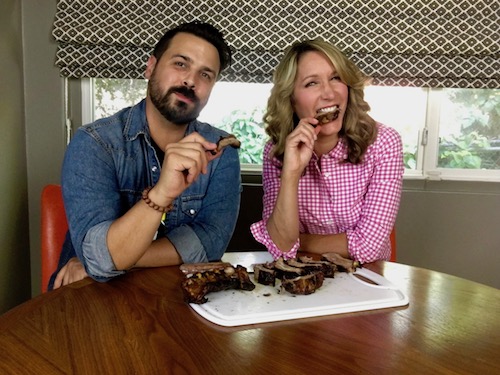 Style Expert Alison Deyette is a TV + digital host and Los Angeles stylist who was recently named one of the top stylists in Los Angeles by Variety, WWD, Angeleno, and Modern Luxury magazines. Known as "The Fixer," she can help you solve your fashion conundrums, take the reins of a home decorating transformation, or hand you the hottest trend without breaking a sweat. She also happens to be a pretty good cook! When teamed up with her bestie Jesse Brune, they share fun tips from fashion to food to DIY and decor on their Super Easy YouTube channel.