Shy is not a term one would use to describe me which is why I'm so excited about the jewelry trends for Summer from some of my favorite designers. It's all about stylish statement jewelry for summer outfits that you'll keep turning to day after day. From statement earrings to bold color in necklaces, bracelets and cocktail rings and even the return of chokers – the assortment of choices is like being a kid in a candy shop.
Stylish Statement Jewelry For Summer Outfits
Statement Earrings
Let's start with statement earrings. I have officially fallen in love with anything that dangles. These beaded tassel earrings are easily THE piece to complement a dress for a summer wedding or make that little black dress look even more chic and you can shop the HSN blog to get them. They're also just fun to pair with a bright cute top and jeans when you want to give your outfit a little oomph. I've sometimes said I dress feet first when I love a pair of shoes, but now it's earrings first as I create multiple outfits in my wardrobe to show off these conversation starters since all eyes will be on my earrings and the smile I have while wearing them. And with warm weather finally here, I put away my heavier stainless steel watch and swapped it for a two-tone colorful leather strap watch to add a bit of whimsy to my outfits.
Here's a style tip about wearing statement earrings like these – avoid pairing them with a collared top which may impede how they hang or move. These earrings deserve to be seen uninterrupted by any collar competition.
Bold Color
When I said I'm not shy, the best example of that is how I embrace color. As a style expert & stylist, I always try to veer people away from always choosing black, white and grey clothing. I make it my job to introduce some color into people's wardrobes.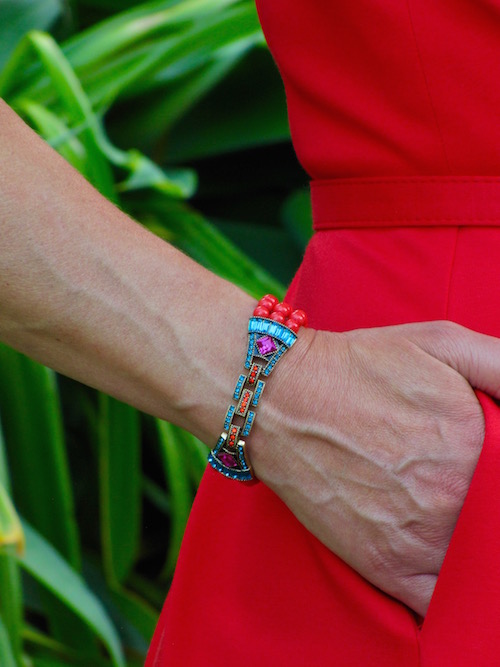 Stylish Statement Jewelry For Summer Outfits
If you're not ready to buy a bright colored dress, simply adding a bold necklace or mixing a few colorful pieces to create a color blocking look is all you need to give an outfit an instant lift. And knowing that you add the "wow" factor with a bright piece of jewelry that's versatile enough to be worn with your work or weekend wardrobe is an easier substitute than buying a bright colored dress you may not wear that often.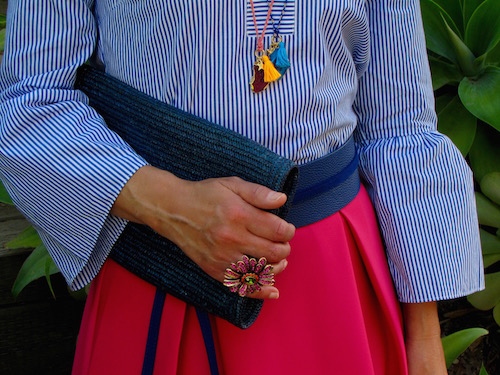 I love layering these two-colorful chain and thread charm necklaces, since together they make more impact. And speaking of standout pieces, my big flower cocktail ring with multi-colored stones and coral leather and gold chain hoop earrings equally make my whole outfit just pop. Spring and Summer is the season show off bold color from clothes to accessories.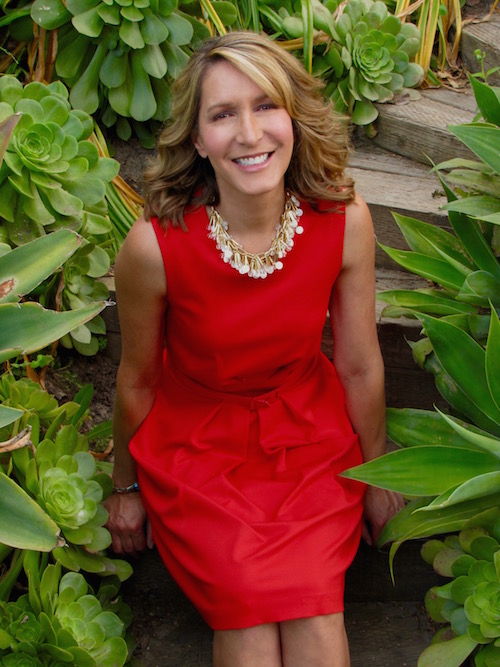 Chokers
Now let's talk about what you've likely seen scrolling through your Instagram feed. Chokers are having their moment in the spotlight. While you may be thinking they're a throwback to the 90's, what I'm seeing are new stylish versions of ribbons, suede and stones, twisted metals and multi-bead creations that are just as adaptable in your wardrobe as the statement earrings and bold color pieces. From bohemian to bold to pretty these new styles of chokers have staying power. The hard part is what style to choose. I went a little gaga for this gold multi-beaded choker because it's a showstopper piece that will add fashionable flair to so many outfits. Plus, it's adjustable so I can vary the length depending on if I want it to lay right at my collarbone like a traditional choker or hang a little lower if I'm wearing a V-neck top. The choker necklace and a pair of multi-colored strappy sandals were all I needed to give a simple red dress plenty of punch.

I adore that a simple swap of jewelry can refresh any outfit and this season's variety makes fashion oh so fun.
You can shop for all these stylish statement jewelry pieces on the HSN blog here!
Style Expert Alison Deyette is a TV + digital host and Los Angeles stylist who was recently named one of the top stylists in Los Angeles by Variety, WWD, Angeleno, and Modern Luxury magazines. Known as "The Fixer," she can help you solve your fashion conundrums, take the reins of a home decorating transformation, or hand you the hottest trend without breaking a sweat.
After starting her career as a fashion & beauty director on national magazines she transitioned into television and digital work. Alison appears regularly on Good Morning America, TODAY, Access Hollywood, The Real, The View, Steve Harvey and is the Style Expert for KTLA's Morning News. Alison is currently host of the AOL series, The Savings Experiment, one of the lead style hosts on Joyus.com and the style expert for HSN. She is a contributing fashion editor for Real Simple, Life & Style, In Touch and Closer Weekly. She was the host of Pocket the Difference, a co-host of TLC's 10 Years Younger and TBS' Movie and a Makeover and the weekly Style Contributor on Hallmark Channel's Marie. In addition, she has hosted several web series including: AOL's In the Know, HerSay with Soleil Moon Frye, Playtex's Bra Makeover series, A Secret Worth Sharing. These web series collectively have more than 100 million views.