Surfboard Pilates!? What? Combining Pilates on a surfboard really amps up the use and strengthening of your core. Myself and Minna Herskowitz at Sandbox Fitness bring you some of our favorite fitness moves every month on my site and on my Alison Deyette YouTube channel. Get inspired! And come check out Sandbox Fitness as well.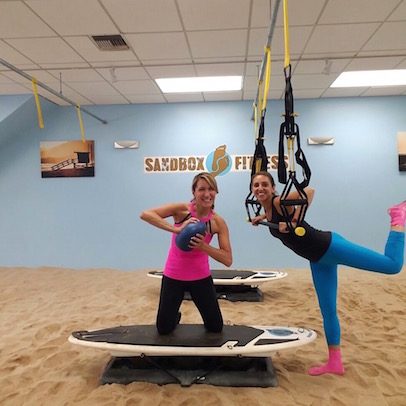 Check out our Surfboard Pilates moves on YouTube on my Alison Deyette channel or as we call it Surfset Pilates. We encourage you to do the moves for longer periods of 45-60 seconds each or repetitions of 10-20 on each leg, side or arm. We share these videos as inspiration and break out a few dance moves in between because workouts should be fun as well as helping attain healthier bodies.
It's likely you don't have all this equipment at home nor at your local gym, but we still wanted to share the new workout at Sandbox Fitness and if you're in the Sherman Oaks, CA neighborhood you should come by and try it. Otherwise, many of these workouts can be altered to do at home or just initiate you to try a traditional Pilates class so you can enjoy the benefits.
Surfboard Pilates
First Move
Rear Leg Lifts
Bend your knee forward and lift up once then bring back to a straight leg position and raise it up twice. Don't bounce it. Stay in control. All while holding in your stomach, breathing and, as we say, knitting in your ribs. Do this for 60 seconds on each leg or a count of 20 on each leg.
Second Move
Turned Out Barre Squats to Rollout
Pull out your best ballerina imitation. First position is your feet slightly turned out and  your heels touching. Raise your heels for this move then slowly lower down twice and be sure you don't stick out your butt. Your lower abs should be pulled in. Then move your feet to parallel position to rollout to a plank while holding the bar. Do this for 60 seconds or a count of 20.
Third Move
Scissor Pass Through With Ball
Lying on your back on the surfboard. Hold ball with outstretched arms. Pull in your stomach and lift your head and shoulders off the board. Start to scissors your legs up and down while you pass the ball through back and forth. Do this for 60 seconds or a count of 20.
Fourth Move
Oblique Hip Combo
Start by being on your knees in the middle of the board facing out to the side. Take the bar in one arm and raise up your other arm. Lift up outside leg straight once. Then bend leg and bend raised arm to meet in a oblique side crunch. You'll want to stay aligned on the side so don't lean forward or let your hips roll back or the move will work the wrong areas.
And don't forget to breathe in and out. Hold in your stomach to keep you from wobbling on the board.
Our favorite photos when we just act a bit silly after shooting our moves.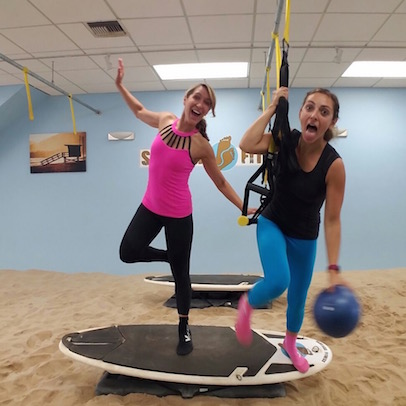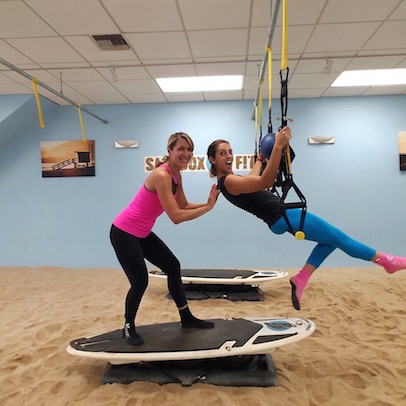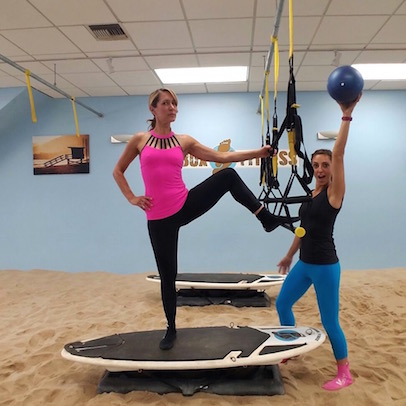 This month we feature outfits from Beyond Yoga. We chose the brightest options available to stand out when teaching.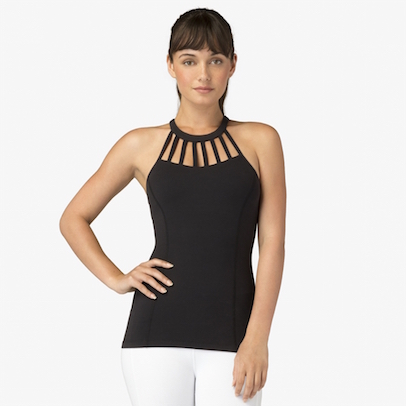 Sunray Visions Cami, Beyond Yoga $88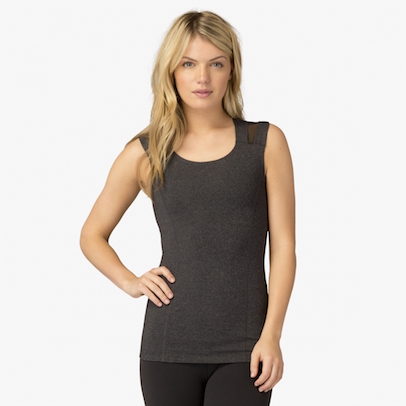 Mesh Around Tank, Beyond Yoga $88
Style Expert Alison Deyette is TV host and Los Angeles Stylist who happens to be a fitness enthusiast as well. She and Minna Herskowitz create short fitness videos for specialty moves each month from Sandbox Fitness.